Today's Deal:
The Details
This is your chance to show your friends and family what makes you, YOU! Spend your money wisely on quality and personality filled professional photography that will last for years to come from Jason Neubauer Photography.
Jason Neubauer Photography is an on-location, natural light photographer who strives to create relaxed portrait sessions that evoke natural expressions and warm emotions during all his sessions.
Family sessions typically take place at your home or an outdoor location chosen by the family or suggested by Jason. One or two locations are usually sufficient for family sessions depending on the size of the family and the age of the subjects being photographed. No matter where your session takes place, be ready to relax and have a good time!
Sessions typically last 1 to 1 1/2 hours. Some subjects may take time to warm up to the camera and will begin to shine late in the session. Jason will not rush this process and will be finished only when he feels he has adequately captured your family at their best. You are worth it; it's easy and a great investment in creating lasting memories.
Don't wait! Schedule your session today - Jason can't wait to work with you!
For samples of Jason's work, please visit his website at www.jasonnphotography.com.
Information & Restrictions
Session is 1 to 1 1/2 hours - Jason also has a full set of backup equipment (just in case) to ensure your day is captured from start to finish
On site photography up to 35 miles from 21701 (Frederick, MD); A additional trip charge of $20 fee will apply if your session location is beyond 35 miles of zip code 21701 (Frederick, MD). Here is a map of the 35 mile radius within the red circle: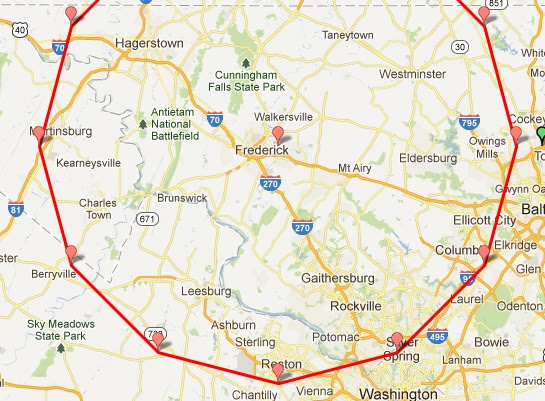 For more than 5 people, please add an additional $20 per person.
Sessions must be completed by September 1, 2014 and be held on weekends only or Wednesdays & Fridays after 5pm.
Session includes 25 high-resolution pictures delivered in a CD format made from many hours of individualized artistic editing and retouching. Your session's images are typically ready to be viewed in your online gallery two to three weeks after your session date. Jason likes to have a fast turn around time but will not compromise on quality along the way. You will be notified by email as soon as your session's gallery is posted for viewing.
May purchase additional photos at $5/each paid directly to the vendor
When you receive your CD, you may manage and use the image files to produce prints for your family and friends, for personal use only within that group of people. Reproductions for resale or any other commercial purpose are prohibited without the additional purchase of royalty fee copyrights from photographer.
To schedule your appointment: please contact photographer at jasoneubauer@gmail.com with questions or schedule requests. Provide your 12-digit CertifiKid voucher number.
Cannot be combined with any other discounts or offers.
This offer is only available for purchase through CertifiKid (www.certifikid.com). If you experience any issues or difficulties with registering or purchasing, please email info@certifikid.com and we will get back to you shortly.
Feature Your Business
Learn More about how Certifikid can make your business boom.